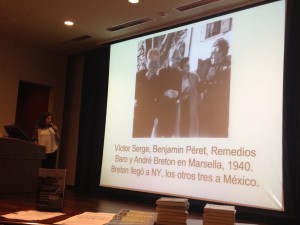 On March 6, ADL partnered with the University of San Diego's Latin American Studies Program to present a Celebrate! lecture titled "Unwelcome Exiles: Mexico and the Jewish Refugees from Nazism." Professor Daniela Gleizer from Universidad Autónoma Metropolitana in Mexico City presented on this topic.
Dr. Gleizer presented her comprehensive investigation, based on archives in Mexico and the United States, where she discovered  the selectiveness and discretionary implementation of post-revolutionary Mexican immigration policy. This policy sought to preserve mestizaje—the country's blend of Spanish and Indigenous people and the ideological basis of national identity—by turning away foreigners considered "inassimilable" and therefore "undesirable."
Through her analysis of Mexico's role in the rescue of refugees in the 1930s and 40s, Dr. Gleizer challenges the country's traditional image of itself as a nation that welcomes the persecuted.