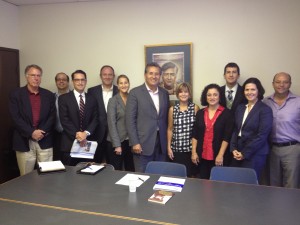 On August 29th, ADL staff and lay leaders met with Congressman Vargas at his district office in Chula Vista.
To begin the lobby meeting, the ADL delegation shared the ADL Centennial video "Imagine a World Without Hate" with the Congressman. During the lobby appointment, we thanked Congressman Vargas for his support on Comprehensive Immigration Reform and for his opposition to the SAFE Act. We also thanked him for co-sponsoring the United States-Israel Strategic Partnership Act and for voting in favor of the Nuclear Iran Prevention Act. ADL members asked the Congressman to vote in favor of the Employment Non Discrimination Act of 2013 and requested his support for the Tyler Clementi Higher Education Anti-Harassment Act, to which he agreed.
Throughout the meeting, Congressman Vargas shared many stories with the group including the time he contacted the ADL when he was targeted with swastikas many years ago. He expressed his thoughts and shared experiences from his recent trip to Israel, where he visited the Western Wall and danced with Israeli soldiers before Shabbat.  He spoke passionately about his meeting with Shimon Peres and shared his personal views on the importance of protecting Israel.
Congressman Vargas also shared a personal story of when he stood outside the Supreme Court with a friend and colleague, Congressman Jared Polis, waiting for the outcome on the same sex marriage cases. Congressman Vargas agreed to participate in ADL upcoming events and educational programs in his district. The ADL group thanked the Congressman and presented him with the book, "A Nation of Immigrants", written by John F. Kennedy.