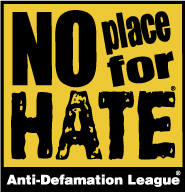 The No Place for Hate® initiative provides educators and students with the resources to ensure that anti-bias and diversity education are an integral part of the school curriculum. No Place for Hate® also helps to create and sustain inclusive school environments where all students feel valued and have the opportunity to succeed by promoting respect for individual difference while challenging bigotry and prejudice.
Every day we make choices. We can choose to let anti-Semitism, racism, and other forms of bigotry go unchallenged and potentially escalate, or we can choose to confront the bias that we see in our workplaces, homes, schools, and communities. As our world becomes smaller and our schools and communities more diverse, it is more critical than ever to actively build bridges to cross-cultural understanding and mutual respect.

How Can My SCHOOL Become Designated No Place for Hate®?
Steps for Becoming a No Place for Hate® School
Upon completion of all four steps below, a school will be designated a No Place for Hate® school.
1. Create a No Place for Hate® committee to oversee the implementation of the anti-bias programs and projects in your school.
Suggested committee members include: administrators, teachers, staff, students, parents, and community leaders. *Complete and send it in your Renewal/Project Approval Form (Form 1) by the stated deadline.
2. Sign ADL's Resolution of Respect (found in the No Place for Hate Resource Guide).
Organize a presentation of the Resolution of Respect through individual classrooms/advisories, as a part of a larger celebration of diversity, or during an assembly/pep rally. Engage the entire school to sign the Resolution of Respect and display it in your school. *Complete and send it in your Resolution of Respect Form (Form 2) that documents how many people participated by the stated deadline.
3. Complete three or more activities that focus on bullying prevention, anti-bias or diversity.  Choose from the projects listed in the ADL Resource Guide or be creative and design your own projects consistent with the themes of No Place for Hate®. It's important to remember that the entire school must participate in the activity in order for it to qualify as an official No Place for Hate® activity.
4. Document all steps and activities by submitting the Activity Forms (Form 3).  Complete and send in an Activity Form (Form 3) after you complete an activity. Upon completion of all requirements,  including submitting each of your 3 Activity Forms by the stated deadline, a school will officially be designated a No Place for Hate® school.
Schools must complete these steps annually to be recertified as No Place for Hate®.
Returning completed forms:
Please send, fax (858-565-4907), or email each form to ADL. In an effort to be green, we encourage schools to scan and email documents to us as much as possible! 
Downloadable Forms:
Form 1 – NPFH Renewal and Project Approval Form 2013-2014
Form 2 – NPFH Resolution Form 2013-2014
Form 3 – NPFH Activity Form 2013-2014
Resolution of Respect – Elementary School
Resolution of Respect – Middle and High School
Additional Resources:
1- No Place for Hate® Best Practices
2- Sample No Place for Hate® Projects