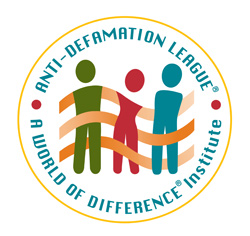 A WORLD OF DIFFERENCE® Institute Peer Training Program 
The A WORLD OF DIFFERENCE® Institute Peer Training Program is built on the knowledge that the most important influence on the development of the attitudes and behaviors of young people is the attitudes and behaviors of one's peers. Building on this concept, the Anti-Defamation League (ADL)'s Peer Training Program prepares young people to use the positive power of peer pressure to motivate other students to reflect upon their stereotypes and assumptions and take action against prejudice and bigotry in their schools and communities.
A WORLD OF DIFFERENCE® Institute Peer Trainers take action against prejudice by leading workshops and interactive classroom presentations and facilitating discussions with their peers about the issues that concern them. Their efforts play a key role in creating schools, communities, and organizations where differences   are valued and respected.
Anti-Bias Study Guide Secondary Level
The Anti-Bias Study Guide provides opportunities for team teaching and cross-disciplinary learning for educators working with students to:
improve communication and critical thinking skills
build conflict resolution skills
increase cross-cultural understanding
analyze information from a variety of sources
understand prejudice and discrimination
take leadership roles in promoting justice and equity
A CLASSROOM OF DIFFERENCE™ TEACHER INSTITUTE
The Teacher Institute is a comprehensive program which provides educators with an opportunity to deepen their understanding of the benefits and methods of teaching through an anti-bias lens. Program participants participate in Institute activities as well as work with the Anti-Bias Study Guide and Curriculum Connections materials. The Teacher Institute provides the opportunity for individual teachers interested in anti-bias education to seek out in-depth professional development. While this program can be adapted for an individual school, the Teacher Institute is designed for educators from many different schools to participate together. The program structure is flexible and can be offered during a week in the summer or over a period of time (e.g., one day a month for five months). While five-days are ideal, Teacher Institutes also can be structured as 2, 3 and 4 day training programs. Participants usually receive credit or professional development hours.